FRISBEE DICTATION
Frisbee is efficient team play. The perfected workflow application facilitates, organises and speeds up cooperation between experts and administrative staff in environments where spoken text has to be transformed into structured documents. Core segments are the areas of legal, healthcare, public authorities and administration.
Thanks to the server version Frisbee Enterprise, the use of the solution is not limited to 1:1 relations between authors and transcriptionists; Frisbee connects and organises author and secretarial workstations of any size, even if external. The unification of subject-specific speech recognition and workflow components gives the greatest benefit inefficiency and sets Frisbee apart from conventional transcription solutions.
The integration of all relevant professional dictation machines and mobile telephones allows a free choice of brands. Thousands of lawyers, doctors and other specialists worldwide are already playing their findings, memos, file notes and correspondence to their back office as Frisbees.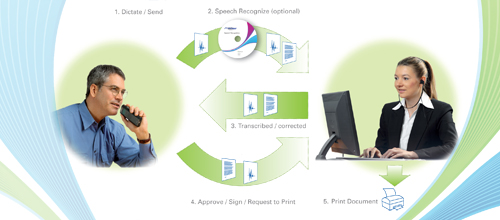 Open Voice
Frisbee's open architecture allows the user a free choice of professional portable dictation devices from leading manufacturers and their microphones. Frisbee is hardware independent. Thanks to Frisbee Smart you can now easily send your speech recordings to your secretary from anywhere and at any time with your Blackberry, iPhone or Windows Mobile Smartphone.
Frisbee can be used under Windows XP, Vista and Citrix. The Frisbee SDK and / or the standard interfaces such as XML and HL7 allow integration in the most varied vertical software applications, e. g. for health services or case management for the legal field.
Workflow Management
The Frisbee workflow follows the philosophy of a mirrored S and corresponds to the natural dialogue between one or more authors and one or more transcriptionists. The allocation of the dictations and documents is carried out automatically according to specified workflow parameters. Both sides are informed by the Frisbee application software of the status of the work at all times. The workflow can be extended by speech recognition, Frisbee SR, at any time.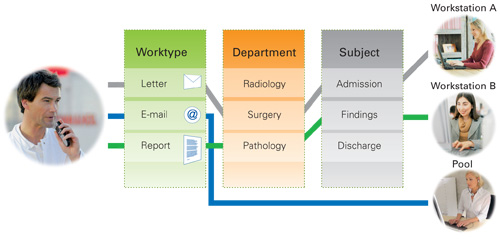 Modularity
You do not need a large initial investment to use the wide complexity of Frisbee. The modularity of Frisbee allows entry as a single workstation solution for 1 to 1 users, by replacing a cassette dictation machine, for example. Whenever your organisation growth into a large, enterprise wide complexity you can extend to the server based solution Frisbee Enterprise, which organises the workflow for hundreds of authors and transcriptionists. The third migration level is Frisbee SR (speech recognition). The module for speech recognition can be extended by dedicated specialised vocabularies, which allow a maximum recognition rate by means of a high level of customisation. This modularity protects your investment in software, hardware and service & support.
Frisbee Facts & Figures
Open architecture, means independent of hardware, i. e. integrated professional dictation machines from all leading manufacturers
Modular and scalable structure of one to an unlimited number of authors and transcriptionists
Dictation, workflow management and speech recognition in one product
Central administration of users, profiles and jobs
Integration in MIS, HIS, etc. by means of SDK or XML and HL7
Frisbee Smart for telephone dictation with iPhone, Blackberry and Windows Mobile Smartphones
Frisbee gives the author and the typist interactive feedback during the entire work process. The Job Lister simplifies the organisation of voice documents by displaying the dictation length, priority, affiliation, etc. Furthermore, the processing status such as dictated, in progress, written, etc. can be displayed at any time.
Frisbee Open Voice is a unique software platform for speech processing such as dictation and transcription, workflow management and speech recognition. The open architecture of Frisbee gives the user a free choice of professional portable dictation devices, microphones and business telephones.
Therefore, Frisbee is hardware independent. Frisbee can be used under Windows XP, Vista, and Citrix. Frisbee permits integration into a great variety of vertical software applications, e.g. for healthcare or for the legal sector. The modular concept of Frisbee allows unrestricted migration of individual applications, even an enterprise-wide workflow system with speech recognition. This modularity protects your investment in software, hardware and service & support.